Oxford event – Peacekeeping Exits and Statebuilding
The presence of UN peacekeeping operations can often improve the host country's capacity and state building indicators. But when the mission is withdrawn, the effect on the state can become the opposite.
What can be done to improve UN transitions and how can empirical data help make after exit strategies more sustainable?
Join our interesting panel discussion online at the Oxford University, based on Prof. Andrea Ruggeri and Dr. Maline Meiske's research brief What is the State of the State when UN Peacekeeping Operations Leave?
Thursday 1 June 14:00 -15.30 (GMT+1/London time).
REGISTER HERE (to recieve a link to the online event.)
The research brief is sponsored by the Folke Bernadotte Academy, the Swedish Defence University and the International Forum for the Challenges of Peace Operations (Challenges Forum). It is part of the joint research brief series Performance Matters in UN Peacekeeping.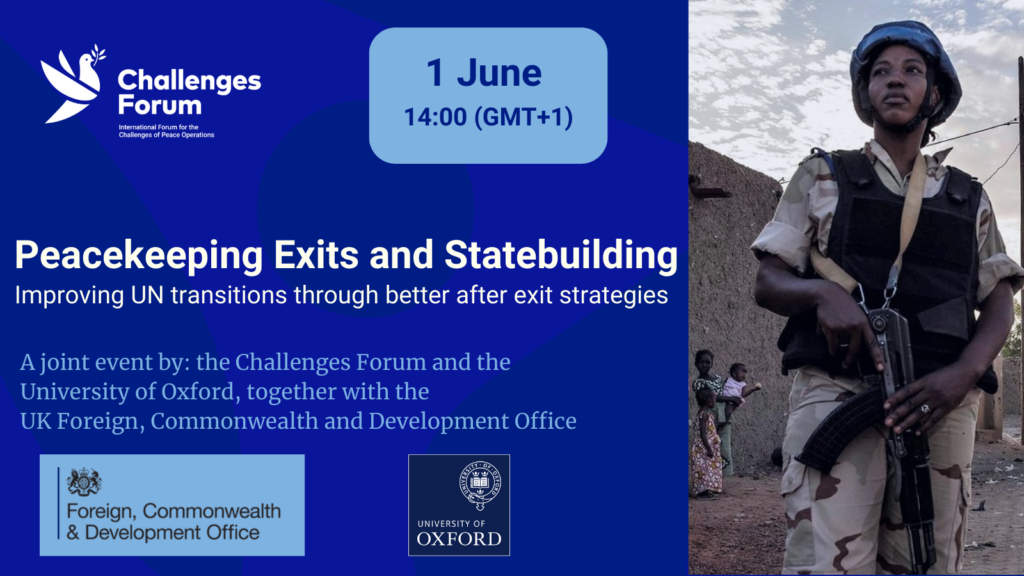 Our eminent speakers include:
Andrea Ruggeri, Professor of Political Science and International Relations and Director of the Centre for International Studies at the University of Oxford, responsible for the quantitative research on the After Exit project working on transitions, co-author of the research paper What is the State of the State When UN Peacekeeping Operations Leave?
Simon Blatchly, Deputy Chief Constable at Derbyshire Constabulary, United Kingdom, former Police Commissioner United Nations Mission in Liberia (UNMIL), previously served as the Chief of the Mission Management and Support Section for the UN Department of Peacekeeping Operations Police Division.
Jessica Di Salvatore, Associate Professor in Political Science and Peace Studies, Department of Politics and International Studies, University of Warwick.
Richard Caplan, Professor of International Relations and a Fellow of Linacre College at the University of Oxford,the Principal Investigator on the After Exit project and co-responsible for the qualitative research on the project.
Jascha Scheele, Coordination Officer, Transitions Project, UN Department for Peace Operations.
Bintou Keita, Special Representative of the Secretary-General in the Democratic Republic of the Congo and Head of the United Nations Organization Stabilization Mission in the Democratic Republic of the Congo (MONUSCO).
The discussion is moderated by: Pernilla Rydén, Director, Challenges Forum International Secretariat (CFIS).
The event is organised jointly by the Challenges Forum and the University of Oxford, together with the United Kingdom Foreign, Commonwealth, and Development Office (FCDO).