The Mission Leadership Digital Tool
The Challenges Forum Mission Leadership tool is a web-based platform for use by peacekeeping mission leaders and other practitioners on and off the field.
It offers an accumulated resource of experiences, insights and best practices to help guide current and future leaders in navigating complex peacekeeping environments.
The Mission Leadership Digital Tool, based on the 'Considerations for Mission Leadership in UN Peace Operations' handbook, is easy to navigate and has interactive graphics and videos, including case studies from field practitioners.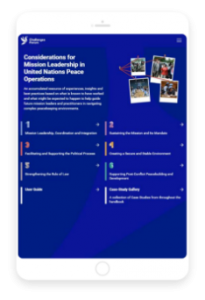 Considerations for Mission Leadership in United Nations Peace Operations
"Considerations is a genuine and impressive international team effort, and an example of the kind of strategic partnerships that are needed in order to sustain and sharpen our collective contribution to UN peace operations."
Jean-Pierre Lacroix
Under-Secretary-General for Peace Operations
United Nations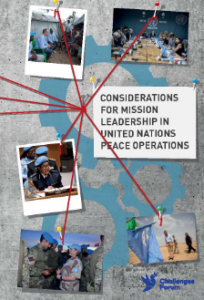 About the Considerations study
Considerations for Mission Leadership in United Nations Peace Operations is a study of the practice of mission leadership in peace operations. It helps practitioners mitigate the well-known pitfalls of missions, rather than being a strategic plan. It is grounded in what is known to have worked and what might be expected to happen.
Considerations is being used as training material by several actors, including during the United Nations Senior Mission Leaders' course (SML).
While Considerations is primarily intended for the mission leadership team, the study may also be of interest to anyone wishing to gain a better understanding of the host of issues and challenges facing contemporary peace operations.
The study is the result of a joint effort and collaborative process by the Challenges Forum partnership, ensuring that relevant and complementary leadership experiences and best practices were selected, shared and included.
Read more about Considerations under Publications
The first edition of Considerations was published in 2010, followed by a revised edition in 2020. In 2022, the digital Mission Leadership tool was launched as a complement, based on the Considerations study.