Egypt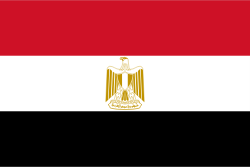 Ministry of Foreign Affairs in cooperation with the Cairo International Center for Conflict Resolution, Peacekeeping and Peacebuilding (CCCPA)
The Ministry of Foreign Affairs of Egypt is responsible for representing Egypt on the international level and for dealing with foreign policy matters, including multilateral forums. The United Nations Division within the Ministry is responsible for following up on issues related to UN peace and security matters, peacekeeping and peacebuilding. The purpose of the Division is to contribute to the planning, conduct and evaluation of multidimensional peace operations from all its aspects. Further, the Division seeks to contribute to the policy development process on peacekeeping and to widen and strengthen dialogue among relevant international actors .

The Cairo International Center for Conflict Resolution, Peacekeeping and Peacebuilding (CCCPA), founded in 1994 by the Egyptian Ministry of Foreign Affairs and re-charted in June 2017 by a Prime Ministerial Decree, is an Egyptian public agency specialized in training, capacity building and research in the fields of peace and security in Africa and the Middle East. It is the successor of the Cairo Regional Center for Conflict Resolution and Peacekeeping in Africa (CCCPA).
CCCPA is an African Union Center of Excellence, and the only civilian training center on issues of peace and security in the Arab world. Through its research and convening activities, it has established itself as a leading voice from the Global South on a wide range of topics, including conflict prevention and resolution, peacekeeping and peacebuilding.
The Center is currently the Executive Secretariat of the Aswan Forum for Sustainable Peace and Development, and the Secretariat of the International Association of Peacekeeping Training Centers (IAPTC), and the Board of Directors of the African Peace Support Association (IAPSTA). It is also the Chairman of the Integrated Disarmament, Demobilization and Reintegration Training Group (IDDRTG).
Egypt, through the Ministry of Foreign Affairs and CCCPA hosted the Challenges Forum International Strategic Seminar and Partners Meeting in February 2012 in Sharm El-Sheikh. Following the seminar, Egypt in cooperation with Sweden, co-hosted a seminar in New York on the preliminary findings during the opening day of the UN Special Committee on Peacekeeping Operations. The theme addressed was 'Peace Operations Beyond the Horizon: Enabling Contributing Countries for the Future'.
The CCCPA was one of the co-chairs of the development of the Challenges Forum report 'Considerations for Mission Leadership in United Nations Peacekeeping Operations'. Furthermore, Egypt regularly translates Challenges Forum reports and material into Arabic.