2017 Recommendations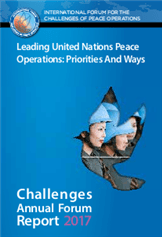 The Challenges Annual Forum 2017 was hosted 8 – 10 October in Istanbul by the Center for Strategic Research of the MFA Turkey(SAM).
More than 70 participants took part in the dialogues, under the theme 'Leading United Nations Peace Operations: Priorities and Ways'.
These recommendations aim to inform the forthcoming review of the Considerations Study, as well as more general recommendations as they relate to senior mission leadership in UN peace operations emerging from the Annual Forum 2017.
To read the full Annual Forum report 2017, click here.
Considerations Study needs to be reviewed significantly to better reflect the role and importance of mission leaders in preventing and addressing sexual exploitation and abuse
Establish mechanisms for transparent reporting and engage- ment with civil society on issues around sexual exploitation and abuse
Consider the participation of women in the peace operation as another tool that may support efforts to prevent and reduce sexual exploitation and abuse
Take a victim-centred approach to sexual exploitation and abuse, which supports the activities of the Secretary-General's Victims' Rights Advocate (through a possible representative in mission)
Identify and share examples of good behaviour and role mod- els within the mission
Considerations Study needs to be reviewed signifcantly to better refect the role and importance of mission leaders in preventing and addressing sexual exploitation and abuse.
Support mechanisms within the mission that enable information to be shared across components on a timely and responsive basis.
Ensure that aspects of the POC accountability framework are integrated into the Considerations Study as they relate to leadership.
Mission leaders need to consider their roles in engaging other leaders and regional organisations when it comes to political engagement and political solutions.
Considerations Study needs to address some of the issues that needed to be considered at diferent stages of the mission cycle. A start-up mission difers from a long-standing mission, or from one in the process of downsizing.
Undertake thorough stake-holder analyses and identify the actors at regional, national and local levels that are supportive of the mission's mandate, as well as those that appear to have reservations.
Revised the defnition of civil society in the Considerations Study and update accordingly.
Develop a concrete methodology for how to identify civil society representatives and potential partners in a balanced manner, tailored for the country specific context.
Consider how to engage with the corporate and donor sector to identify issues of mutual interest and avoid poor coordination.
Effectively utilise the civil afairs component (where available) to strengthen engagement with civil society, or a focal point within the mission if there is no civil affairs officer or unit.
Ensure the Human Rights Due Diligence Policy is being applied when cooperating with national, parallel and regional forces.
Undertake a review of the Considerations Study to include developments since the development of the Strategic Guidance Framework on Policing.
Create new output on the issue of addressing terrorism and violent extremism in the chapter 'Creating a Secure and Stable Environment'
Ensure the new UN intelligence policy is understood and implemented efectively in the mission, in order to assess and address potential threats to the mission, personnel and civilians.
Mission leaders should familiarise themselves with UN tools on counter-terrorism and preventing violent extremism in order to assess the types of support that can be provided to the host government in terms of confict prevention initiatives and capacity-building.
Consider the potential role, opportunities for cooperation and comparative strengths of other mechanisms including regional forces, parallel forces, sanctions and arms embargoes when addressing terrorism.
Consider role and opportunities for cooperation with other Security Council mechanisms (e.g. sanctions) and regional organisations that may assist in addressing the threat of transnational organised crime.
Review considerations study to ensure comprehensive coverage of transnational organised criminal activity and approaches
Identify how to incorporate new and emerging communication platforms internally within mission and with external
actors.
Establish efective mechanisms to analyse and assess information for use by the missions, drawing on the new intelligence policy
Identify opportunities to cooperate with emerging technology companies in mission areas (if appropriate to the mission context)
Ensure scenario-based training modules include comprehensive treatment of issues related to UNSCR 1325 and 2250, as well as sexual exploitation and abuse.
Consider the role incentives for senior staf to participate in each exercise and possibly applying sanctions to those who refuse to undergo such training.
Include some mid-level and junior staf in scenario-based training exercises, particularly if they are supporting the mission leadership team.
Run scenario-based exercises in headquarters to ensure staff are aware of some of the leadership challenges in the field
Include more comprehensive treatment of mission transition strategies and what this means for leadership in Considerations Study.
Outline all the 'harms' whether intentional or unintentional that occur when undertaking peacekeeping operations, including environmental and economic impacts resulting from operations.
Consider how theories of change may explain how other actors will be engaged in peacekeeping activities, and their relevance to sustaining peace.
Consider the challenges of transitioning from a UN peacekeeping mission from the mission outset, with guidance on how to build strong institutions beyond mission mandates.
Ensure there are strategies to engage and support youth participation through implementation of UNSCR 2250, engage and support women's participation through implementation of UNSCR 1325 and its subsequent resolutions, and integrate a gender perspective throughout the life-cycle and different tasks of the mission.