Roundtable on Systems Leadership at Sthlm Forum
Systems Leadership in Peacebuilding as a tool for behavioral change, exploring UN system leadership's peacebuilding impact in the Great Lakes region. That was the topic of the roundtable discussion that Challenges Forum organised at the Stockholm Forum on Peace and Development 2021, together with its partners the Ministry of Foreign Affairs of the Arab Republic of Egypt and the Folke Bernadotte Academy (FBA) the Swedish government agency for peace, security and development.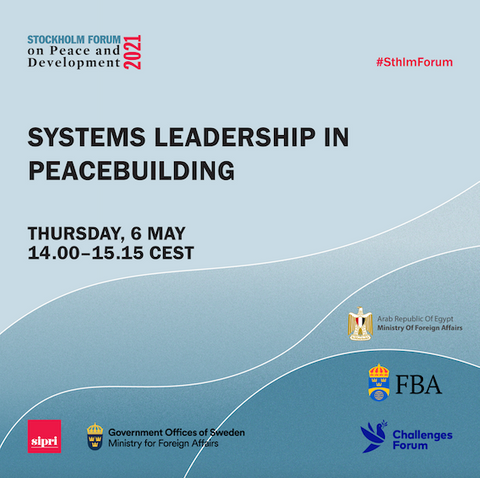 In line with the 2020 Challenges Annual Forum recommendations, the objective of the Roundtable was to explore how Systems Leadership, as a tool for behavioral change, can support UN Special Political Missions to strengthen and operationalise synergies and coherence with wider peacebuilding efforts, and how collective engagement and coherent political support to those efforts can be strengthened.
Systems Leadership is a behavioral approach widely used in the private sector and other complex environments and is gaining momentum in the UN. It is well-suited to address complex challenges that require collective action, where no single entity is in control. It involves building and mobilizing alliances of diverse stakeholders around a shared vision for systemic change, empowering widespread collaboration, innovation and action; and enabling mutual accountability for progress to shift systems towards sustainability.
Key discussants:
Ambassador Amr el Sherbini, Deputy Assistant Foreign Minister, UN Affairs, Egypt Ministry of Foreign Affairs
Marie Blomdahl, Senior Advisor Leadership Development, Folke Bernadotte Academy– Swedish agency for peace, security and development
Huang Xia, Special Envoy of the Secretary-General for the Great Lakes region, United Nations
Henk-Jan Brinkman, Chief of Peacebuilding Strategy and Partnerships, UN Peacebuilding Support Office, United Nations
The conversation was moderated by Benoît Pylyser, Senior Strategic Adviser at the Challenges Forum International Secretariat.
The invitation-only event gathered 40 participants, mainly selected key actors in the UN and academia, as well as a number of other selected registrants of the main Stockholm Forum event.
The twitter thread, summarising some of the highlights from the conversation can be read again here.