Multidimensional Peace Operations Concepts and Doctrine Development
The Challenges Forum Seminar in New York was hosted by the Challenges Forum and co-sponsored by the Pakistani, French and Swedish Permanent Missions to the United Nations.The Challenges Forum Seminar focused on the partnership and to report back on recent work, take stock on developments and discuss issues for the future.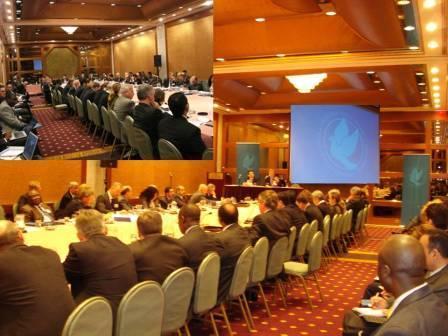 The specific purposes of the meeting were twofold: first, to discuss some of the key issues of the first International Forum for the Challenges of Peace Operations hosted as part of the EU Presidency Agenda by the Ministry of Foreign and European Affairs and the Ministry of Defence of France in Paris 20-22 October 2008. The second part of the meeting focused on looking to the future and the forthcoming substantive undertakings of the Challenges Partnership. In particular, but not exclusively, issues of relevance for modern peace operations. The session also raised the outcome of a Challenges Forum Workshop on Multidimensional Concepts and Doctrine Development held at the United States Army Peacekeeping and Stability Operations Institute, 26-27 January 2009.