The Rule of Law on Peace Operations
The Asia-Pacific Centre for Military Law hosted the 11th Challenges Seminar at Melbourne University in the period 11-13 November 2002. The Conference was entitled "The Rule of Law on Peace Operations".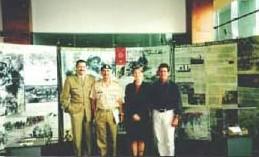 The objectives of the conference were to (1) inform the deliberations of the United Nations Special Committee on Peacekeeping Operations on key legal issues relevant to the planning, management and conduct of peace operations; and (2) generate valuable and relevant practical information on rule of law issues within peace operations for the Asia-Pacific Region.
Conference participants recognised that on peace operations, the rule of law must be applied within the multinational and multilateral realities of politics, diplomacy, military doctrine and humanitarian principles. There is a need to ensure that the application of the rule of law is balanced with the political, diplomatic, military and humanitarian space in which peace operations operate so that the victims of conflict are given the best protection possible. The challenge lies in finding that balance.