Multidimensional Peace Operations Concepts and Doctrine Development
The workshop was hosted by the Challenges Forum Partner US Army Peacekeeping and Stability Operations Institute (PKSOI), Center for Strategic Leadership at Carlisle Barracks, Pennsylvania, United States and focused on "Multidimensional Peace Operations Concepts and Doctrine Development".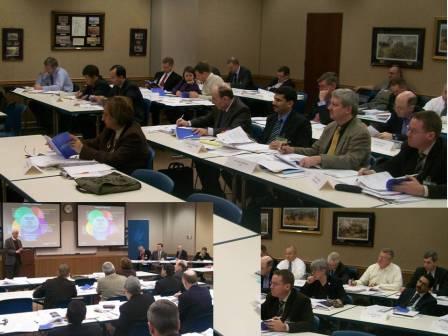 Background
In order to contribute to the improvement of harmonisation of international and multidimensional peace operations practice, the Challenges Forum Partnership decided in October 2008 to; first, remain engaged with the UN's doctrine project through discussion, advocacy and where possible substantive support. Second, to support the development of an interactive Challenges Forum website for the sharing and promulgation of guidance material for peacekeeping best practice. Third, to contribute to the articulation of operational level guidance material through the sponsorship of inclusive workshops and follow-on papers on each of the three core business work strands identified, but not elaborated upon, in the UN Peacekeeping Operations: Principles and Guidelines document. At the Challenges Forum Partners Meetings in Paris, it was agreed that volunteer Partners would sponsor the series of workshops in 2009 and 2010 focusing on identifying some of the principles and concepts underpinning the three core business work strands. In this process there would be no attempt to write doctrine for the UN Department of Peacekeeping Operations but, by identifying and discussing the concepts needed to operationalize the three strands of core business for contemporary peacekeeping, make a welcome, inclusive and enabling contribution to the debate on these issues amongst the international community. The results of this independent Challenges Forum workshop series are intended to be presented at the International Forum for the Challenges of Peace Operations in April 2010.

Purpose and Expected End-State of the Carlisle Workshop
The aim of the Carlisle workshop was to plan and initiate a workshop series on multidimensional peace operations concepts and doctrine development. By the end of the Carlisle workshop, Partners should be clear on the scope, broad content and schedule for the separate work strands as well as the specific work strands in 2009 to which they intend to make a contribution.

Substantive Focus
The three work strands are focusing on the following subjects: 1. Create a secure and stable environment while strengthening the State's ability to provide security, with full respect for the rule of law and human rights; 2. Facilitate the political process by promoting dialogue and reconciliation and supporting the establishment of legitimate and effective institutions of governance; 3. Provide a framework for ensuring that all UN and other international actors pursue their activities at the country-level in a coherent and coordinated manner.