BACKGROUND PAPER Call for Change and Early Actions to 'Save Succeeding Generations From the Scourge of War'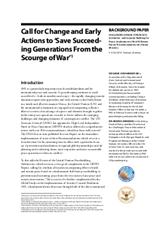 The year of 2015 is a particularly important year for multilateralism and for international peace and security. As peacekeeping continues to reach record levels, both in numbers and scope, the rapidly changing security dynamics require new approaches and early actions to deal with threats in a timely and effective manner. Hence, the United Nations (UN) and the international community are engaged in encompassing collective efforts to review a broad range of aspects and elements brought together in the term peace operations, in order to better address the emerging challenges and changing dynamics of contemporary conflict.
The UN Secretary-General (UNSG) has appointed a High-Level Independent Panel on Peace Operations (HIPPO) that has delivered a comprehensive review with over 100 recommendations, which has been well received. The UNSG has in turn published his own Report on the immediate implementation of some of those Recommendations. To this adds the Review of the United Nations Peacebuilding Architecture which is soon to be further complemented by the Global Study on the Implementation of Security Council Resolution 1325. Another related important development, is the finalisation of the 2030 Agenda for Sustainable Development, specifically goal 16, which focuses on the importance of promoting peaceful and inclusive societies for sustainable development.
This paper first brings out three specific aspects that recur in each of the Reports mentioned above and that are of particular relevance to institution- and capacity-building. These are i) prevention and early warning as a permanent feature of all peace operations; ii) local ownership and participatory engagement as a priority for any peace operation; and iii) reconciliation and inclusive dialogue to build trust and confidence among all stakeholders and partners involved. Second, the paper looks at three specific areas of particular importance to achieving the above. These are i) police, justice and corrections (including oversight); ii) strategic communications and information technologies; and iii) partnerships with and between regional organizations as well as between different peacekeeping actors (including men and women) and with civil society. Third, some concluding remarks are presented together with suggestions of questions for further discussion.