BACKGROUND PAPER Challenges 'Considerations' Study A Review of Its Implementation and Impact for Mission Leadership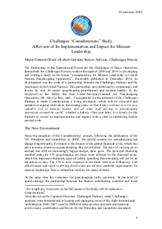 The Partnership of the Challenges Forum worked throughout 2009 and 2010 in developing and writing a study on the theme 'Considerations for Mission Leadership in United Nations (UN) Peacekeeping Operations'. Eventually published in December 2010, its development was the work of a partnership between the Challenges Partners and the Secretariat of the UN.
The partnership was reinforced by commentary and review by over 20 senior peacekeeping practitioners and mission leaders. In his Foreword to the Study, the then Under-Secretary-General for Peacekeeping Operations, Mr. Alan Le Roy, said: "I am grateful for the intention of the Challenges Partners to make Considerations a living document, which will be reviewed and updated on regular intervals in the coming years, so that it may continue to serve as a valuable tool to mission leaders and all other staff serving in peacekeeping operations around the world" (Author's italics). This paper reviews its implementation and impact, to identify further needed work.