BACKGROUND PAPER Challenges Facing UN Peace Operations in Africa: The Cases of South Sudan and Libya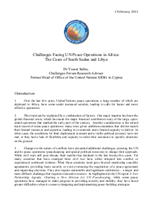 Over the last few years, United Nations (UN) peace operations, a large number of which are deployed in Africa, have come under increased scrutiny, leading to calls for leaner and more effective operations.
Against the backdrop of greater scrutiny of UN peace operations, two historical political developments have recently taken place in Africa. First, the creation of the Republic of South Sudan, and second, the fall of the regime in Libya. This paper provides background for a discussion on the challenges facing recent peace operations in Africa. It focuses on recent developments in South Sudan and Libya that led to the establishment of UNMISS and UNSMIL, and discusses some of the challenges facing the two missions.