BACKGROUND PAPER Overcoming Logistics Difficulties in Complex Peace Operations in Remote Areas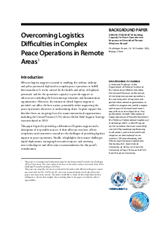 Effective logistic support is crucial to enabling the civilian, military and police personnel deployed in complex peace operations to fulfill their mandates. It is also critical for the health and safety of deployed personnel, and for the operation's capacity to provide support to other actors, including the host nation government and humanitarian organizations. Moreover, the manner in which logistic support is provided can affect the host nation, potentially either supporting the peace operation's objectives or undermining them. Logistic support has therefore been an on-going focus for many international organizations, including the United Nations (UN), whose Global Field Support Strategy was introduced in 2010.
This paper begins by providing a definition of logistics support and a description of its possible sources. It then offers an overview of how complexity and remoteness exacerbate the challenges of providing logistics support in peace operations. Moreover, it highlights three major challenges; rapid deployment; managing host nation impact; and assessing new technologies. Finally, it offers nine recommendations for the panel's consideration during the 'ANNUAL FORUM 2014: Building Capacity for Peace Operations in Response to Diversified Threats: What Lies Ahead?'.