Background paper: Peacebuilding and Sustaining Peace in Peace Operations
What can be done to strengthen peace operations contribution to sustaining peace, while gearing towards making an impact in the field? This is the topic of the second dialogue strand of the Virtual Challenges Annual Forum 2020 led by the Ministry of Foreign Affairs of the Republic of Indonesia.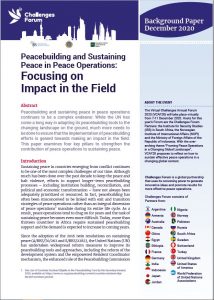 This background paper on the topic is authored by Sarah Abdelgelil, a consultant specialized in UN peace operations and women, peace and security (WPS), at the Expertise Consultancy House (ECH).