Challenges Annual Forum Report 2017: Leading United Nations Peace Operations: Priorities and Ways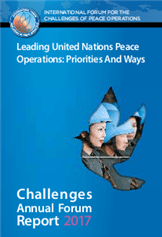 The Challenges Annual Forum 2017 was hosted 8 to 10 October in Istanbul by the Center for Strategic Research of the Ministry of Foreign Affairs of the Republic of Turkey (SAM). More than 70 participants from 21 countries, the United Nations, academia and think-tanks took part in the dialogue over two days. The theme for the annual forum was 'Leading United Nations Peace Operations: Priorities and Ways'. Drawing on a series of background papers, presentations and working group discussions, the Forum served as a first step to revise and update the 'Considerations for Mission Leadership in United Nations Peacekeeping Operations' (Considerations Study). It also contributed to broader discussions in support of the Challenges Forum work stand on leadership to support stronger and more effective leadership of UN peace operations.
Peace operations have evolved significantly since the drafting of the first Considerations Study in 2010, with UN peace operations continuing to evolve and adapt to respond to new and emerging realities on the ground. Since the annual forum was held in October 2017, the UN Secretary-General has subsequently announced his 'Action for Peacekeeping' initiative, which sets out a series of priority action areas to address many of the pressing challenges that UN peacekeeping operations continue to face. The revision of the Considerations Study therefore provides a timely opportunity to seize on these reforms and ensure it remains a contemporary guide in addressing many of the challenges that senior mission leaders continue to face in contemporary UN peace operations.
This report captures the diverse experiences of a range of individuals serving in peace operations and engaged in the reform of peace operations as part of the Challenges Partnership, and offers a series of recommendations to inform the forthcoming review of the Considerations Study, as well as more general recommendations as they relate to senior mission leadership in UN peace operations emerging from the Annual Forum. .