OCCASIONAL PAPER No. 2, APRIL 2014 Evaluating Integrated Peace Operations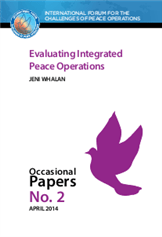 This paper reviews the state of the art on evaluating integrated peace operations. It examines the intersection between two prominent trends that have characterized peace operations over the past 10–15 years: the progressive integration of security and development objectives, and the increasing demand for comprehensive evaluation of policy interventions.
It identifies a set of inherent constraints to evaluating integrated operations, develops principles for improving evaluation, and presents examples of good evaluative technique to inform future policy development. Case studies are used throughout to illustrate and extend the analysis. Finally, the paper highlights a number of emerging 'good practices' that are not widely used in the evaluation of integrated missions, but should more often be employed.
CHAPTERS
Introduction
Understanding Integrated Operations
The Inherent Constraints on Evaluating Integrated Peace Operations
Comparative Approaches to Evaluating Integrated Missions in the DRC
Conclusions

Dr Jeni Whalan is a Lecturer in International Security and Development at the University of New South Wales Australia, and a Research Associate at the Global Economic Governance Programme, University of Oxford. She is the author of How Peace Operations Work: Power, Legitimacy, and Effectiveness (Oxford University Press, 2013) and a founding member of the Security Council Analysis Network (SCAN). Her research focuses on peacekeeping, the United Nations, fragile states, policy evaluation and international security governance. She holds a DPhil and MPhil in International Relations from the University of Oxford, where she was as a Rhodes Scholar, a Wai Seng Senior Research Scholar and a Wingate Scholar. She has served as a foreign policy advisor in the Australian Government's Department of Prime Minister & Cabinet and Department of Defence, and as a consultant to the International Peace Institute, the International Forum for the Challenges of Peace Operations, and the UNESCO Education for All Global Monitoring Report.