OCCASIONAL PAPER NO. 7, NOVEMBER 2015 Strategic Communication: A Political and Operational Prerequisite for Successful Peace Operations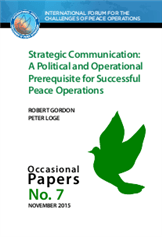 The power of language to incite violence and inspire peace has long been recognised. New and social media, the diffusion of mobile technology and the speed of communication have recently driven home both the perils and promise of powerful rhetoric. At the same time, as UN peace operations continue to reach record levels, those who engage in the difficult and dangerous work of making, keeping and building peace are faced with the need to justify their approach to a, sometimes sceptical, audience of the public, press and policymakers. In these increasingly hostile and complex environments, it is perhaps more important than ever for UN peace operations to be able to communicate strategically with both its local and international audiences.
This occasional paper argues that strategic communication theory can help explain the success of those who call for violence, can help improve the success of those who promote peace operations and is itself the core of successful peace operations.It explores and demonstrates how the tools of communication theory, which date back at least as far as Aristotle, can help explain the current success of violent extremists online, and also can help those who engage in peace operations better explain and promote their work, as well as better do their work. The authors therefore call for communication strategies to be hard-wired into the UN's planning processes as well as for senior practitioners to be more conversant with the principles and instruments of communication theory and doctrine.
Robert Gordon has over thirty years of service that included being the British Army's Director of Corporate Communications from 1996-99. He also served as a Force Commander of the UN Mission in Ethiopia and Eritrea (UNMEE) and was a key contributor to the UN's first strategic level doctrine for peacekeeping, known as the Capstone Doctrine. Robert retired from the British Army in 2005 and today, as an international consultant, he works with several UN Departments and Agencies, the World Bank, the British and other Governments as a lecturer, mentor and adviser on peacekeeping operations.
Peter Loge has spent more than two decades working in strategic communications, most recently serving as the Vice President for External Relations at the US Institute of Peace. He was also a Senior Vice President at M+R Strategic Services, the founder of Milo Public Affairs, and served in senior positions with three members of the U.S. House of Representatives and the late Senator Edward Kennedy. Peter is on the faculty of the School of Media and Public Affairs at The George Washington University and is an Associate Fellow at Timothy College at Yale University.