POLICY BRIEF 2015:2 Interfaces Between Peace Operations and Organized Crime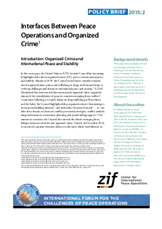 Why is it important to translate threat awareness into policy and instruments and what could be possible measures to do so? In order to answer these questions it is helpful to look at some of the interfaces between peace operations and organized crime. This paper suggests an analytical model consisting of seven possible interfaces which can assist in structuring the various linkages as well as in assessing threats to peace operations, mandate implementation and host nation stability. In doing so, this model can also help to structure our thinking on the corresponding need for action.
In the recent past, the United Nations (UN) Security Council has increasingly highlighted the threat organized crime (OC) poses to international peace and stability. Already in 2010, the Council noted that it considers transnational organized crime, piracy and trafficking in drugs and human beings as 'evolving challenges and threats to international peace and security'. A 2012 Presidential Statement noted that transnational organized crime 'negatively impact[s] the consolidation of peace in countries emerging from conflict. A year later, following a Council debate on drug trafficking in West Africa and the Sahel, the Council highlighted that organized crime is 'threatening to reverse peacebuilding advances' and invited the Secretary-General'… to consider these threats as a factor in conflict prevention strategies, conflict analysis, integrated missions' assessments, planning and peacebuilding support.' On numerous occasions, the Council also stressed the threats emerging from linkages between terrorism and organized crime. Indeed, in December 2014, it convened a separate thematic debate on this topic which was followed, in May 2015, by a report by the UN Secretary-General on the threat of terrorists benefiting from transnational organized crime
This paper was originally written as a background paper for a Challenges Forum Workshop on the 'Strategic Guidance Framework for International Police Peacekeeping,' in Oslo on 18 March 2014. This was a substantial contribution to the development of the Guidelines on Police Capacity-Building and Development.