POLICY BRIEF 2015:3 Institution- and Capacity-building for Peace: Implications of the UN's Review Panels' Recommendations for Future Missions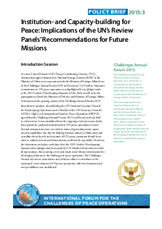 The ongoing review processes have generated a political momentum for UN peace operations to move forward in important ways, not only in terms of generating more capacities and capabilities, but also for helping decision makers to think anew and crystallise what the role and activities of UN peace operations should be in order to address current and future threats as effectively as possible.
The Challenges Annual Forum 2015 was held in Yerevan, Armenia, on 5-6 October. It was hosted by the Institute for National Strategic Studies (INSS), Ministry of Defence, in cooperation with the Ministry of Foreign Affairs of Armenia. Armenia's commitment to UN peace operations was highlighted by its pledges made at the 2015 Leaders' Peacekeeping Summit in New York, as well as by the participation of both the Minister of Defence and Minister of Foreign Affairs of Armenia in the opening session of the Challenges Annual Forum 2015. The discussions took place only days after the 2015 Leaders' Peacekeeping Summit where pledges had been made by UN Member States that exceeded all expectations; thus creating a new and much more vibrant environment for developing solutions to the challenges of peace operations.