POLICY BRIEF 2016:3 The UN Reviews and What Should be Done to Improve the Safety and Security of United Nations and Associated Personnel?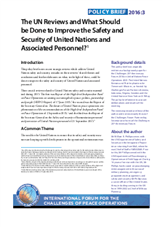 This policy brief looks at recent strategic reviews which address United Nations safety and security, remarks on those reviews' shared themes and conclusions and further elaborates on what, in the light of these, could be done to improve the safety and security of United Nations and associated personnel.
The need for the United Nations to ensure that its safety and security mea­sures are keeping up with developments in the operational environment was a common, general theme of the three reports released in 2015; the Report of the High-level Independent Panel on Peace Operations (the so-called HIPPO Report), the subsequent report of the UN Secretary-General on implementation of the HIPPO Report's recommendations, and the Report of the Secretary-General on the Safety and security of humanitarian personnel and protection of United Nations personnel.
The policy brief notes that while the United Nations has adapted to maintain risk-acceptable operational environments, enabling mandate implementation and other activities, security challenges will continue to increase in complexity and scale. This underlines the importance of the United Nations and Member States to continue to proactively address those challenges. The paper considers a number of issues that affect the safety and security of United Nations and associated personnel, including for example information analysis and intelligence capacities; operational planning, coordination and implementation; transnational organized crime; sexual exploitation and abuse; strategic communication; and Mission Support.
The author of this policy brief, Mr William R. Phillips serves with the UN Department of Safety and Security on the Integration Project since returning from Mali, where he was Chief of Staff of the United Nations Multidimensional Integrated Stabilization Mission in Mali (MINUSMA). Prior to this, Mr Phillips served with the UN Departments of Peacekeeping Operations and Field Support. During 16 years of service with the UN, Mr Phillips has focused on peacekeeping risk management in the areas of military planning, emergency preparedness/management, and safety and security. Mr Phillips was a career officer of the United States Army, including serving in the UN from 1999-2002 as Chief of Military Planning.