POLICY BRIEF 2016:4 Leading the Way to a More Equal Peace: Senior Management and Gender Mainstreaming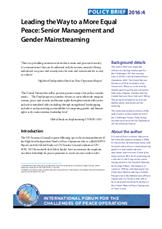 This policy brief discusses how senior management can more concretely interpret the mandated tasks of a UN peace operation to identify what gender-sensitive implementation means when seeking to move from policy to practice.
Over the years, the importance of the gender perspective has become increasingly prominent in UN peacekeeping. The UN Secretary-General's reports following up on the recommendations of the High-level Independent Panel on Peace Operations and the Global Study on UN Security Council resolution 1325, have in common the emphasis on robust leadership for peace operations to reach concrete results on the ground. Without leadership, the much needed, more strategic form of, gender mainstreaming – through decisions taken in the regular chain of command – will not be possible.
Dr Louise Olsson is Senior Advisor at the Folke Bernadotte Academy. Dr Olsson has worked extensively with research and policy on mainstreaming gender in international peace operations and missions. Among her many tasks at FBA, she has developed a Gender Coach Program for the Swedish Ministry for Foreign Affairs, which is a training program for senior management. She began her career in 1999 by contributing to the UN project Mainstreaming a Gender Perspective in Multidimensional Peace Operations. Dr Olsson holds a PhD from Uppsala University which focused on the United Nations Peace Operations in Timor-Leste.