POLICY BRIEF 2017:3 Strengthening the Selection, Preparation, Support and Appraisal of Senior Leadership in UN Peace Operations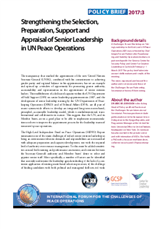 This policy brief asks: as the UN continues its important reforms of peace operations, leadership and the Organization as a whole, how can the UN better select, prepare, support and appraise its senior mission leadership to make it fit for implementing today's multidimensional Peace operation mandates, in increasingly complex environments (with shrinking resources)?
This policy brief draws on the work of the Challenges Forum (includ­ing a workshop on Taking Leadership to the Next Level: United Nations Peace Operations 20201), the HIPPO, the UN Office of Internal Oversight Services (OIOS), as well as interviews with the Senior Leadership Appointments Sec­tion (SLAS) of the UN Department of Field Support, the Integrated Training Service of the UN Department of Peacekeeping Operations, and current and former senior mission leaders.
Dr Jibecke Joensson is the Acting Head of Policy and Best Practices at the Challenges Forum International Secretariat. Previous positions include political adviser in the European Union Delegation to the Kyrgyz Republic, and Programme Manager at the United Na­tions University Office to United Nations headquaters in New York. Dr Joensson has also worked in the private sector and with international NGOs. She holds a PhD with a focus on multilateralism, collective security and UN peacekeep­ing.