POLICY BRIEF 2019:1 Action for Peacekeeping: Strengthening the Effectiveness of Future Peace Operations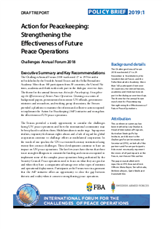 On November 28-29, the Challenges Annual Forum 2018 was organized by the Challenges Partners Folke Bernadotte Academy and the Swedish Armed Forces in Stockholm in support of the UN Secretary-General's initiative Action for Peacekeeping (A4P). This conference summary has been drafted by Lisa Sharland, Head of International Program, Australian Strategic Policy Institute, and Advisor to the Challenges Forum International Secretariat (CFIS), on behalf of the partners and Forum participants.
The Forum provided a timely opportunity to consider the challenges facing UN peace operations and how the international community may be best placed to address them. Multilateralism is under siege. Superpower rivalries, impunity for human rights abuses and a lack of regard for global cooperation continue to challenge efforts at multilateral cooperation. In the words of one speaker, the UN is a twentieth century institution facing twenty-first century challenges. These developments continue to have an impact on UN peace operations. The last few years have shown that there is not enough willingness to commit the funding and resources required to implement some of the complex peace operations being authorised by the Security Council. Peace operations need to focus on what they are good at and where they have a comparative advantage over other types of missions and operational deployments. Participants at the Forum were in agreement that the A4P initiative offers an opportunity to close the gap between rhetoric and reality when it comes to strengthening peace operations.