POLICY BRIEF 2019:3 The Politics of A4P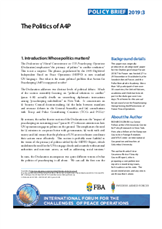 The Declaration of Shared Commitments on UN Peacekeeping Operations emphasizes "the primacy of politics" to conflict resolution.The phrase, popularized by the 2015 High-level Independent Panel on Peace Operations (HIPPO) is now standard UN language. But what is the main political problem that Action for Peacekeeping (A4P) is supposed to solve?
The A4P process is an opportunity to overcome the division between the political worlds of headquarters and the field,although it is not clear that all members of the UN are 100% committed to its success. The negotiation process leading up to the Declaration was a step in the right direction, as UN officials used a series of seminars to lay out field-level problems to New York based diplomats. As a result, many diplomats showed a little more sympathy for field perspectives.
A4P has at least created a minimum of inter-governmentalconsensus about the need to address the politics of peacekeeping at both the headquarters and field levels. But what can those countries that want to see real change, and their allies in UN system, do to build on this?