POLICY BRIEF 2019:5 Leadership and Cooperation to Strengthen Protection of Civilians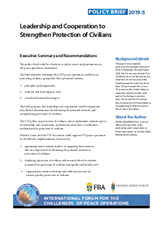 Protection of civilians (POC) has developed into a priority mandate of UN peace operations over the past 20 years.The UN Secretariat and UN field missions have produced guidance and tools to implement the protection of civilians mandates.This brief proposes that leadership and cooperation could be important inter-linked denominators for balancing the potential tensions, and strengthening protection of civilians.
The brief sets out to address the following questions:
1. What are some of the challenges that UN peace operations couldface in protecting civilians?
2. What could assist UN peace operations in meeting these challenges?
3. How could Member States and the UN Secretariat support peace operations in meeting these challenges?