POLICY BRIEF 2019:7 Women, Gender and the A4P Agenda: An Opportunity for Action?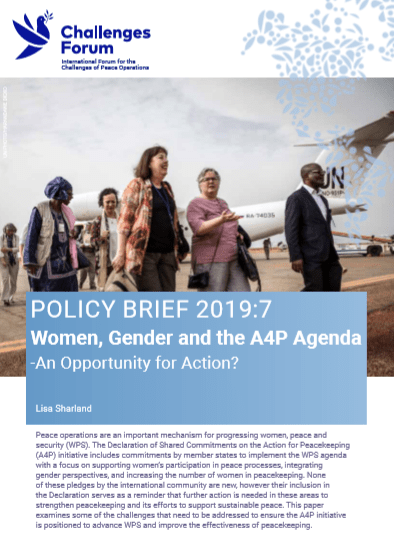 This paper examines some of the challenges that need to be addressed to ensure the A4P initiative is positioned to advance WPS and improve the effectiveness of peacekeeping.
Peace operations are an important mechanism for progressing women, peace and security. In 2020, the international community will mark twenty years since the inclusion of women, peace and security on the agenda of the Security Council. There are laudable successes that can be pointed to in the last two decades but in many cases, that progress has been incremental. The Action for Peacekeeping (A4P) initiative, launched by the Secretary-General in March 2018, has the potential to advance WPS within the context of peacekeeping and peace operations more broadly.
This Policy Brief was authored by Lisa Sharland. It was originally written as a background paper for the Challenges Annual Forum 2018. Since then, the paper has been developed in to a policy brief incorporating key developments in women, peace and security subsequent to the 2018 Annual Forum.