Challenges Annual Forum Report 2012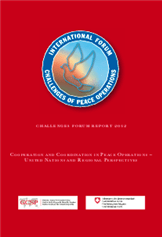 Cooperation and Coordination in Peace Operations – United Nations and Regional Perspectives
The Geneva Centre for Security Policy (GCSP) in cooperation with the Federal Department of Foreign Affairs and the Federal Department of Defence, Civil Protection and Sport of Switzerland hosted the Challenges Forum 2012, Cooperation and Coordination in Peace Operations – United Nations and Regional Perspectives, in Geneva.
The themes addressed include: inter-institutional cooperation; civil-military relations in the protection of civilians; coordination between external and local actors in the fight against organized crime; and the cooperation triangle between the UN Security Council, the UN Secretariat and troop- and police-contributing countries in complex peace operations. The Forum moreover addressed the peacekeepingpeacebuilding nexus from the perspective of enhanced coordination and cooperation; lessons learned in cross-organizational cooperation; issues relating to protection of civilians in high
intensity environments, drawing from the Afghanistan experience; the tensions in applying two peacekeeping principles – consent and national ownership – in South Sudan; and a comparative analysis of UN's command and control arrangements with EU and NATO structures. The report also contains four thought-provoking background papers by Mr Richard Gowan on The UN, Regional Organizations and a New Generation of Challenges; Mr Alan Doss on Civil-Military Relations – A Marriage of Necessity?; Dr Walter Kemp on Peace Operations and the Rule of Law – Recommendations for Dealing with Transnational Organized Crime; Prof Ian Johnstone on The Cooperation Triangle and Civilian Capacity, and a paper by the United Nations Environmental Programme on Greening the Peacekeepers, addressing environmental implications for and of peace operations.