Challenges Annual Forum Report 2014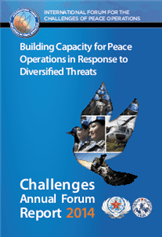 The Challenges Annual Forum 2014 addressed the theme of "Building Capacity for Peace Operations in Response to Diversified Threats".
The diversified threat environment of today's peace operations puts increasing demands on peacekeepers. As peace operations continue to evolve to respond to the changing nature of conflict, capacity-building strategies and mechanisms also have to adapt. The Annual Forum Report 2014 addresses the challenges at stake through the following four thematic areas: promoting peacekeepers' capacity to address non-traditional threats; enhancing the capacity of peace operations to address threats against peacekeepers; overcoming logistical difficulties; and building partnerships for the capacity-building of
peacekeepers. The Forum agreed that political dialogue and partnership are essential for progress, as are leadership, technology, situational awareness and intelligence, training, deployment of enablers and coordination with regional organizations.
This report comprises a comprehensive summary of the presentations, discussions and background materials of the Challenges Annual Forum 2014 on building capacity for peace operations in response to diversified threats. It also presents a number of targeted recommendations derived from the speakers and participants' views on the current challenges of peace operations.
The event was hosted by the Chinese Ministry of National Defence Peacekeeping Office and the Chinese Institute for International Strategic Studies in Beijing.